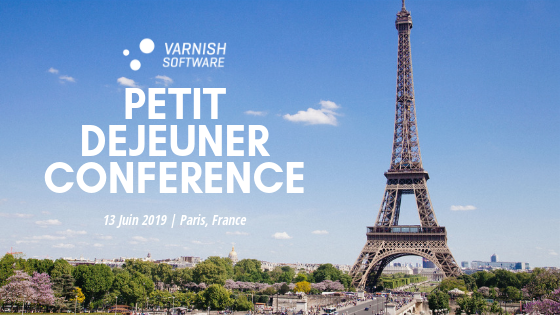 It's been a while since Varnish has been in Paris to share all the updates and tricks Varnish offers in handling web performance – but we're finally coming back. And we hope you'll join us.
On 13 June 2019, we invite you to meet us at Hotel Le Méridien Etoile in Paris for our Petit Déjeuner conference to learn more about what Varnish has been up to in recent months.
You may already be familiar with Varnish and the basics of caching, but at this event, we want to share a lot more about what Varnish is capable of.
We will jump start the morning with a breakfast session, followed by a few hours packed with talks delving into Varnish's wide array of features and possibilities, ranging from finding out how to get the most from Varnish with our tech evangelist, Thijs Feryn, to SFR's Thierry Magnien, describing how SFR implemented just one of the many things you can do with Varnish by building their own in-house CDN.
If you're ready to find out more about the famous Varnish flexibility, sign up now to attend our morning session.
(Read below for French)
Varnish sera à Paris pour un petit déjeuner conférence en juin
Cela fait maintenant un moment que Varnish ne s'est pas rendu à Paris pour partager nos nouveautés et astuces offertent pour améliorer vos performances web - mais nous sommes finalement de retour. Et nous espérons que vous pourrez vous joindre à nous.
Nous vous invitons donc le 13 juin 2019 à l'hôtel Le Méridien Etoile à Paris pour un petit déjeuner conférence pour apprendre plus au sujet des progrès Varnish de ces derniers mois.
Vous êtes peut-être déjà familier avec Varnish et les basiques du cache, mais à cet événement nous souhaitons partager plus sur tout ce dont Varnish est capable.
Nous débuterons cette session par un petit déjeuner, suivi de quelques heures de discussions approfondies autour de Varnish et ses larges possibilités et solutions.
Cela allant de "comment obtenir le meilleur de Varnish" par notre technical evangelist, Thijs Feryn, à Thierry Magnien à SFR décrivant comment SFR a implémenté juste une des multiples choses possible de faire avec Varnish pour créer leur propre CDN.
Si vous êtes curieux d'apprendre plus sur la fameuse flexibilité Varnish, inscrivez vous dès maintenant à notre matinée de conférence.