Per Buer was recently invited by Global Banking & Finance Review to discuss the importance of speed in the financial services industry and fields concerned with data delivery. Per shares two important things crucial to data delivery and customer experience, and uses Varnish Software customer, Morningstar, as a case study to show how Varnish Plus delivers when it's most important.
This article was originally posted by Global Banking & Finance Review
What financial services companies need to consider when website speed and currency is fundamental to business.
Ever since Benjamin Franklin advised that "time is money," in his 1748 Essay to a Young Tradesman, businesses have taken in to heart. The last decade's digital wave and advent of the "real-time" concept have added new currency to this simple, enduring maxim. Financial services, where value is created, moved or lost within milliseconds is especially vulnerable to time's tyranny.
Franklin's maxim holds even truer for the growing number of established players and startups that offer services or access to financial information through websites or apps. Their consumers expect websites and apps to serve up information in the very instant and format they need it, otherwise they will seek alternatives that are just a mouse-click or keypad tap away.
Two things to get right
There are two main things those players need to get right to stay in the game: First, to create a website architecture that gives multiple users fast, simultaneous access to information and applications. Second, they need to be able to update information as soon as changes occur so users can trust that they are viewing and transacting with fresh data.
The first issue can be solved by integrating what is called a cache or a web accelerator – also called a reversed proxy – into the site architecture. A reverse proxy acts like an ordinary web server that intercepts all web requests before they reach a company's web server. The advantage of a reverse proxy is that it caches requested pages from the server, so the server doesn't have to reproduce multiple impressions of the same page. This means that the next user can view the page without experiencing a delay. By doing so, each server is able to serve hundreds of more consecutive requests per second, speeding up the website performance and make sure the site is loaded immediately. This helps prevent users from defecting to other sites.
Delivering fresh information is more complicated, especially when different systems and several data centers are involved. Content updates are usually executed where the content resides on the server. This means that older content might still be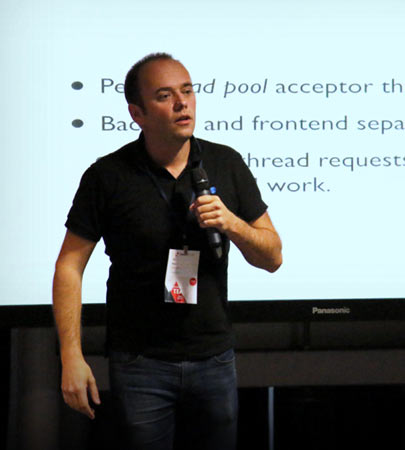 in the cache, so the user will not see the updated information immediately. In this case, the cached content must be deleted, or purged. The concept, known as cache invalidation, was coined by internet veteran Phil Karlton as one of two 'hard things' in Computer Science. Fortunately, nowadays there are different strategies and tools for purging cache. One tool is Varnish Administration Console (VAC) that includes a 'Super-Fast Purger' – a high performance cache invalidation delivery mechanism that works across multiple instances of cache. When using multiple servers in different locations, it uses a distributed architecture to spread out purge requests. Content or objects in the cache can be fully controlled and actively removed whenever needed. Per Buer, CTO and Founder of Varnish Software
Morningstar use case
Morningstar Inc. offers a real-world example of how to cope with these issues. Caching is a critical to the operations of this independent investment research provider in North America, Europe, Australia and Asia.
Morningstar provides data to approximately 456,000 investment offerings, including stocks, mutual funds, and similar vehicles, along with real-time global market data on more than 12 million equities, indexes, futures, options, commodities and precious metals, in addition to foreign exchange and Treasury markets.
Initially, Morningstar's needed to execute a minimum of more than 2,000 cache deletions per second to maintain critical business integrity. Data was to be supplied consistently and in real-time across multiple servers and locations.
Before taking advantage of the benefits of VAC and the Super-Fast Purger, Morningstar was not using any form of high speed purging. The need for a simple standardized solution for the underlying platform proved to be vital, as was the need for technology that developers and system administrators alike could share, regardless of location. Morningstar also wanted to release resources used in the cache purging process (computing power, computing infrastructure and also system administrators usually involved in this task) and take advantage of using them for other operations.
"The most important thing is to serve data for customers in a consistent manner.Varnish Administration Console delivers this." –Fred Wong, Morningstar, Inc.
Morningstar global presence truly pushed cache purging to the next level. Its distributed architecture ensures data is synced across multiple servers, and more importantly that those servers can be in any given data center. By doing this, data freshness and consistency are safeguarded.
For Morningstar, Inc. there were also many other benefits outside cache purging. Varnish Cache hit levels (when the requested data is available in the cache) were increased from 70% to 90%, releasing significant computing and human resources for other important tasks.
Morningstar's success story proves that although time ruthlessly marches on, technology that might have impressed Dr. Franklin, is available that can help financial services companies turn more of this precious resource into money.