Both live and VoD streaming pose challenges ranging from latency to uptime - these issues pose no surprise but are also opportunities for getting creative in taking control of your own streaming infrastructure. At the heart of your solution is your CDN.
Commercial CDNs make up a considerable part of the setup for most companies, but managing the unpredictable -- which is what successful streaming comes down to -- is becoming more difficult. Commercial CDNs provide a lot of the stability that large enterprises with major streaming needs require. But they are shared resources that don't allow for customization and don't go far enough to help enterprises escape the sense that they are beholden to a black-box solution. Meanwhile, the need for controlling costs and content delivery, the location of PoPs, ensuring scalability, and getting the kind of flexibility needed to develop new features or customize how and where content is delivered is driving new approaches to developing custom streaming CDN infrastructure.
It doesn't have to be all or nothing, though, which makes getting started with a hybrid solution that includes both commercial CDN resources and a private CDN setup to create a faster, more flexible streaming solution for your specific needs.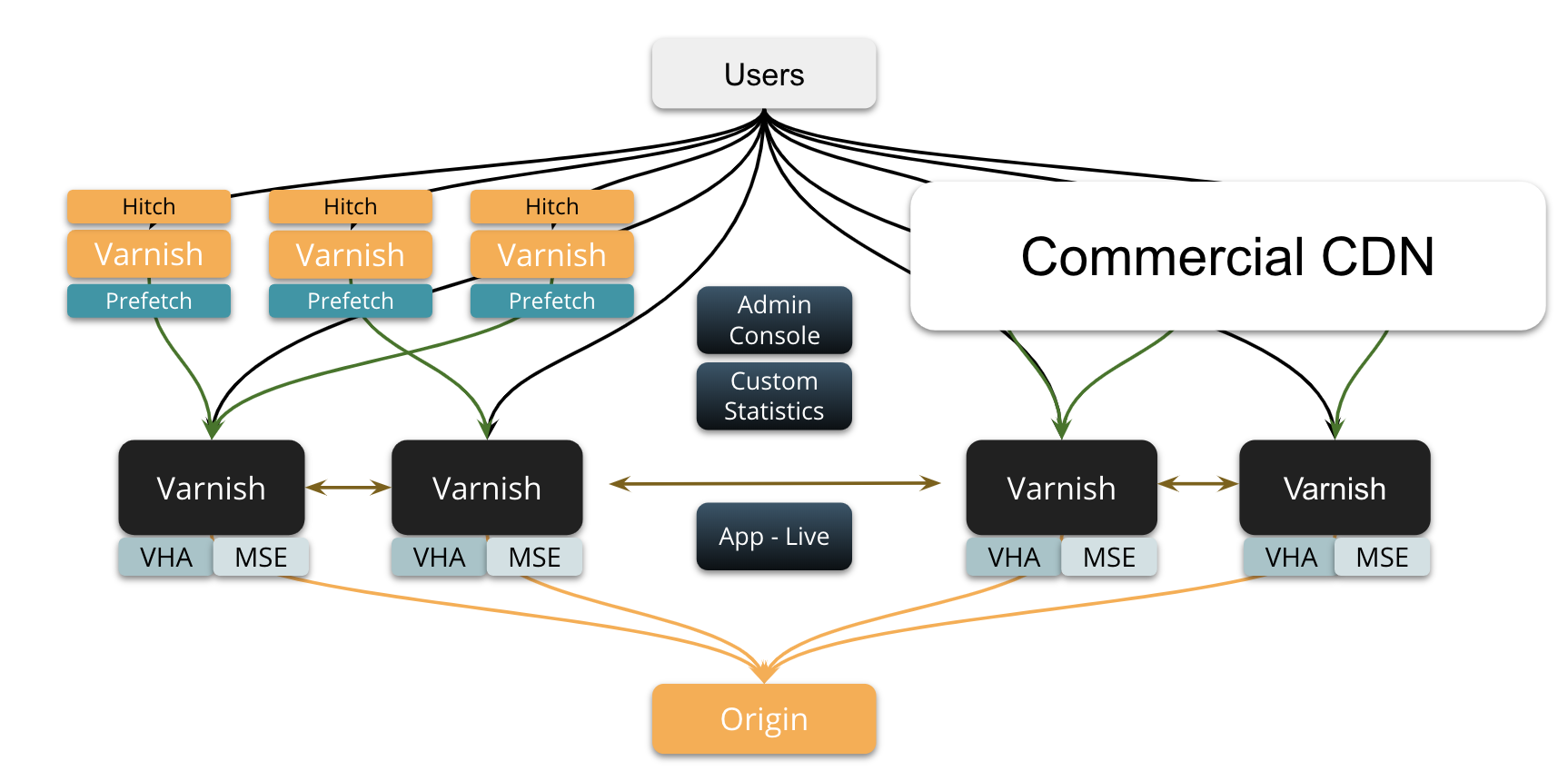 Varnish Hybrid Setup
Flexibility is the core of a high-performance, hybrid streaming CDN solution. That is, build your private CDN on top of your existing third-party, commercial CDN setup. You can keep what you already have and build onto or around it. It may be an easy-to-implement and scalable solution ensure flexibility for your streaming needs that lets you manage:
Performance -- Ensure that content is deployed by best-performing CDN components in real-time in any traffic conditions as well as from the PoP closest to your audiences.
Uptime -- Streaming customers expect seamless performance and instant access to live and VoD content. Downtime and outages represent expensive losses. A hybrid solution addresses the availability issue: you won't have a single point of failure, and you'll have an always-available risk distribution solution.
Control -- A hybrid approach lets you control and customize how much of your infrastructure will be private and how much will be commercial according to your own needs. You gain real-time insight into performance and efficiency to continually optimize your CDN approach while also getting better control over your costs.
Security -- A hybrid approach ensures that you have more control over security. Keeping high-value content on shared, third-party CDN resources can be a limitation and a risk. Proprietary content delivery across commercial infrastructure and an open, public network isn't ideal. Taking advantage of a private setup can help protect against DDoS and other similar attacks.
What should your CDN ecosystem look like to help you optimize your streaming content delivery workflows your own way?
Get in touch with us to determine the best setup for you and remove chance from the CDN equation.