Flexibility is the name of the game at Varnish Software. Anyone using or familiar with Varnish Software's offerings is at least aware that most of what we do aims to make things more flexible for users, and keeping their needs in mind.
Thinking about these needs, and flexibility, we have designed a new credit-based system for making access to Varnish training and professional services easier, more flexible, more "elastic" and better aligned with your needs when and as you have them.
To do this, we've launched the V credits system. Now, instead of signing up for a specific training course or professional service and paying for it at the time of delivery, V credits let you purchase credits in bundles to be applied when and how you need them. There's no hurry: you have a full year from V credit bundle purchases to decide how to use your credits.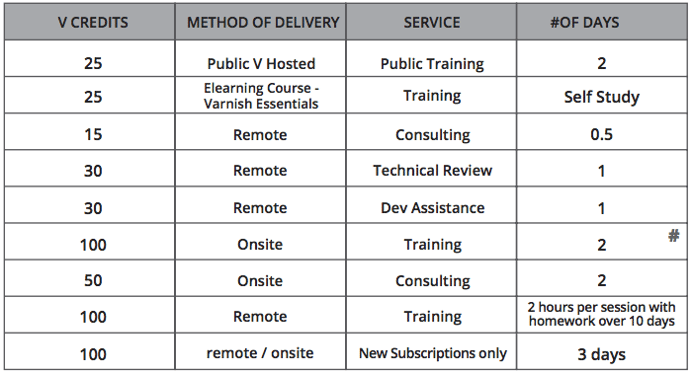 Also, some important bonuses to keep in mind:
A paid Varnish Plus subscription comes with 100 credits that you can apply to the services outlined in the chart above

Joining the Varnish Software Customer Reference program also earns you V credits.
Photo (c) 2010 Scott Liddell used under Creative Commons license.