Is the traditional Black Friday holiday spending extravaganza dead? Is the decline in Cyber Five spending experienced in 2021 a sign of a permanently changed e-commerce landscape? Or are we seeing longer shopping periods and the spread of spend across several weeks leading up to the big event? Has the comprehensive embrace of online shopping for virtually everything shifted consumers' mindsets away from the rush of supposed Black Friday "deals"?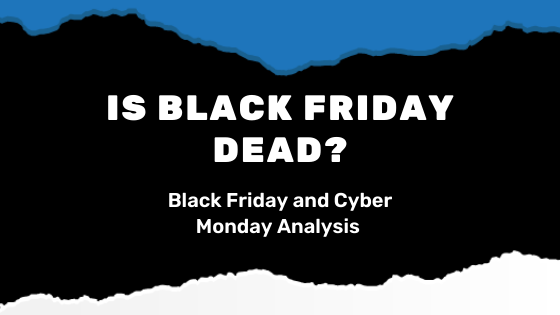 In most years, we recap Black Friday, Cyber Monday and the intervening days by sharing disaster stories of crashed websites, frustrated shoppers, and avoidable downtime, highlighting the ways that web performance woes can be mitigated with caching technology and optimizing websites for availability and uptime. Yet 2021 has proven to be a different kind of beast, with fewer performance failures than we have seen in previous years, which could well be due to the fact that people simply chose to shop and spend online much less than in previous years. That's not to say that there were no performance problems, but they were far from the biggest Black Friday concern this year.
Here's the rundown of what we observed during this year's Black Friday period.
Malfunction junction
Every year, there are retailers who suffer from malfunctions of one type or another. 2021 has not been an exception. Big ones included problems with Walmart's website, which showed every item out of stock and prevented shoppers from adding items to shopping carts.
For those who did attempt to shop, Revolut, the online challenger bank, also suffered outages on Black Friday, as their cards failed to work.
DownDetector also reported problems with the FedEx website on Black Friday, with users reporting problems both with package tracking and with the overall website itself. So it's not just the shopping sites themselves that take a hit but every link in the supply chain.
The chips are down: Supply chain woes wound
Speaking of the supply chain, woes abound in every aspect of getting goods to stores and consumers, including getting component parts to manufacturers. Beyond shipping and port backlogs, cardboard shortages, inflation issues, exorbitant fuel prices, uncertainty around Covid, and labor shortages, one of the biggest problems this year is a well-documented computer chip shortage. Affecting the availability and price of everything from big-ticket items like cars to popular electronics, particularly gaming consoles and devices like smartphones and TVs.
These ongoing supply chain disruptions have led savvy consumers to start shopping much earlier, not waiting for barnbuster Black Friday deals, with Americans spending upwards of 76 billion USD since early November, up 20% from a year ago, according to Adobe data. Yet even getting an early start might not guarantee that gift giving is going to go as planned.
Safety first
While millions of Americans (and global shoppers alike) searched for deals, just as many cyber criminals were looking for marks. Online e-commerce security for consumers has become a key challenge for retailers.
Performance matters: Absence of evidence is not evidence of absence
Even with a reduction in web catastrophes, there is still a long way to go for the most popular and powerful websites in the world in terms of performance and delivering good page experiences. According to research from Searchmetrics, half of the top 100 most visible websites on Google fail core web vitals tests on desktop, while 44% fail on mobile. High atop the list of poor performers are major e-commerce retailers, such as Target.com, Walmart.com, and other sites that rely on selling online, such as travel sites, fashion and apparel sites, and social sites. A mere 24% of the top 100 most visible fashion sites pass core web vitals, in many cases because these sites rely heavily on dynamic content.
Black Friday is not dead: Every day is Black Friday
The Cyber Five 2021 weekend marks the first time that Adobe has tracked a slowdown in spending on major shopping days. The 10.7 billion USD consumers spent was down 1.4% from last year, but extended data shows that 2021 is still on track to be a record-breaking year for holiday spending. Adobe predicts that Americans will spend as much as 207 billion USD between November 1st and December 31st, which would be a record 10% gain over previous years.
Considering all of these trends and circumstances, and reflecting on the ubiquity of e-commerce in consumers' daily lives, it may not be too early to declare that every day could be Black Friday, and any organization doing transactional business, whether or not they are actively engaged in selling goods directly to consumers, should be ready for anything at any time.
Make sure you are ready for anything.