One of the most common - and ongoing - challenges companies face is making sure their content is delivered the way they want it to be - fast and reliably. And the thing is: there is no one-size-fits-all way that fits all companies. Everyone is keen first and foremost to achieve top performance: fast, smooth, reliable delivery under any conditions - that is, whether there is an unforeseen flood of traffic, and even if your website is completely down - a company still wants their visitors and customers to see something. Performance is the starting point - a constant and something that can always be improved.
And while Varnish API and Web Acceleration has been built, tried and tested for acceleration purposes, it's a lot more flexible than that and works to ensure that your high-performance content delivery starts with speed and builds from there.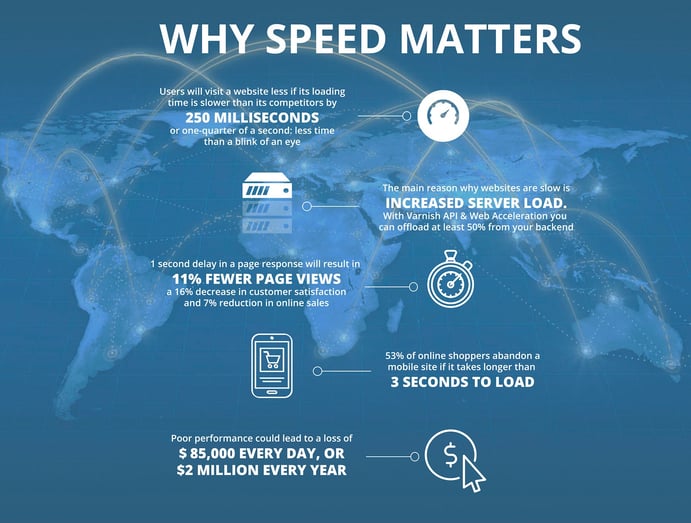 This is nothing new for us - it's what we have been doing for global companies since the beginning. But, as more companies grapple with greater demands for performance in the face of changing traffic volumes and growing numbers of requests for all kinds of different content, we're just making the solution more accessible.
What Varnish API and Web Acceleration does and how
As a caching reverse proxy, Varnish stands as the middleman between your origin servers and the hundreds, thousands or even millions of requests that come in every second. In this way, Varnish protects your origin, making sure it remains stable and sees as little action as possible, all while caching incoming requests only the first time something is requested. Future requests are served from the Varnish cache(s), which is where the speed comes from.

Origin server - Varnish cache(s) - Clients/users making requests
This is the basic functionality that enables the high performance Varnish delivers. In practice, your own setup and how you use Varnish API and Web Acceleration can be more complex and tailored to your needs, which is where different Varnish component features come in. This has more to do with controlling your content in cache and the policies you can set for everything from content's time to live and to access control… and pretty much everything in between.
Why you need Varnish API and Web Acceleration
Every company in every industry needs to keep their eye on their API and web performance, whether content delivery is simply a nice-to-have to ensure that users or customers always have access to what they need or whether it is absolutely essential to your bottom line. Most businesses are finding themselves in the latter camp, as even the most brick-and-mortar industries have become digitally driven. In fact, many enterprises from across virtually all industries can be called e-commerce companies, which rely on web performance, uptime, availability, cache invalidation and other key technologies to enable secure, high-powered and scalable digital content delivery.
Our new website and solution-oriented focus aims to make very explicit what Varnish API and Web Acceleration can do for you - and help you get more quickly and easily to more information or to someone you can talk to if you have questions or are ready to get started.