Varnish Plus and CacheFly together have jointly been awarded StackWorld's annual Scale-Up Award, and are in the lucky position of being one of the top-25 winners. Naturally, we are honored.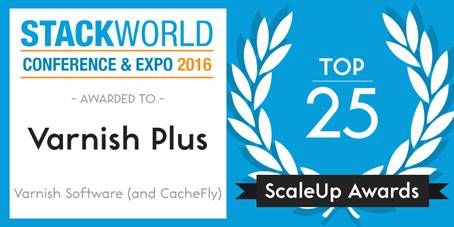 CacheFly is a world leader in CDN technology with a focus on speed and delivery. In order to scale up and meet their own exacting demands on throughput and deliver on their 100% service level commitment to their customers, CacheFly has supercharged its CDN offer using Varnish Plus. According to CacheFly's CTO, Matt Levine: "Using Varnish Plus we are able to deliver hundreds of terabytes of content seamlessly as well as deliver on our 100 percent SLA to our customers."
Our own CTO and founder, Per Buer, stated: "This is great recognition of how Varnish Plus helps our customers be prepared for delivering their digital content at any scale. And ultimately shows how Varnish Plus supports migration of massive caches in production CDNs. The real honor goes to CacheFly for showing the market how to benefit from building your own CDN. CacheFly uses Varnish Plus to push the limits of what caching of what caching can do for a CDN at massive scale without interruptions, a perfect fit for the ScaleUp Awards."
The ScaleUp Awards will be presented at the StackWorld 2016 Conference & Expo, June 27-28 in San Francisco.
You can read the full CacheFly case study to find out how CacheFly and Varnish lead the way in DIY CDNs.
To get ready (or scale up!) for their 2016 conference and expo in June, StackWorld sought nominations for technology products that provide incredible scale for their users. Varnish Plus, known for its performance at any scale - including massive scale - has landed in the top 25, meaning that the story of how Varnish Plus provided unprecedented speed, scale and control to Varnish Software's customer, CacheFly, will be in the spotlight.
Photo (c) 2013 Rebecca Siegel used under Creative Commons license.