In our second blog post in the series about differences between Varnish Enterprise and Varnish Cache (read part 1, Project or Product) , we're going to focus on support and other professional services. Support encompasses all the guidance and help Varnish Software provides before, during and after Varnish is installed. It's a crucial reason for Varnish Enterprise's existence - many organizations require it.
Varnish Cache
As an open source project, Varnish Cache does not come with professional services or support as standard but there is an active Varnish Cache community for troubleshooting and problem solving, via mailing lists, an IRC channel and forums plus documentation maintained by Varnish Software. Still, there is a certain amount of DIY with Varnish Cache, though learning how to deploy and maintain it optimally can be fun.
For many organizations and enterprise content providers, their risk appetite and the complexity of their existing infrastructure means it is genuinely unthinkable to go it alone. This is particularly true when delivering content quickly and reliably - whether it's streaming video or dynamic web content - is critical to their commercial success. Making a long-term investment in technology also requires calculable ROI, plus assurance of support, updates and security fixes; everything required to secure ongoing performance in a competitive content delivery market.


Varnish Enterprise
Varnish Enterprise is built around these requirements, and comes with the full arsenal of professional services and support:
Professional services - full support in planning and implementing Varnish Enterprise
Support - dedicated engineers on hand to offer day-to-day troubleshooting and fixes
Access to developers - for recommendations, code reviews and feature requests
Updates - regular managed updates, predictable releases and long software lifecycles
Security

- full array of bug and security testing plus backported security updates

Varnish Enterprise comes with professional services and support as standard from the very beginning of your Varnish journey and into the future, for as long as you need it.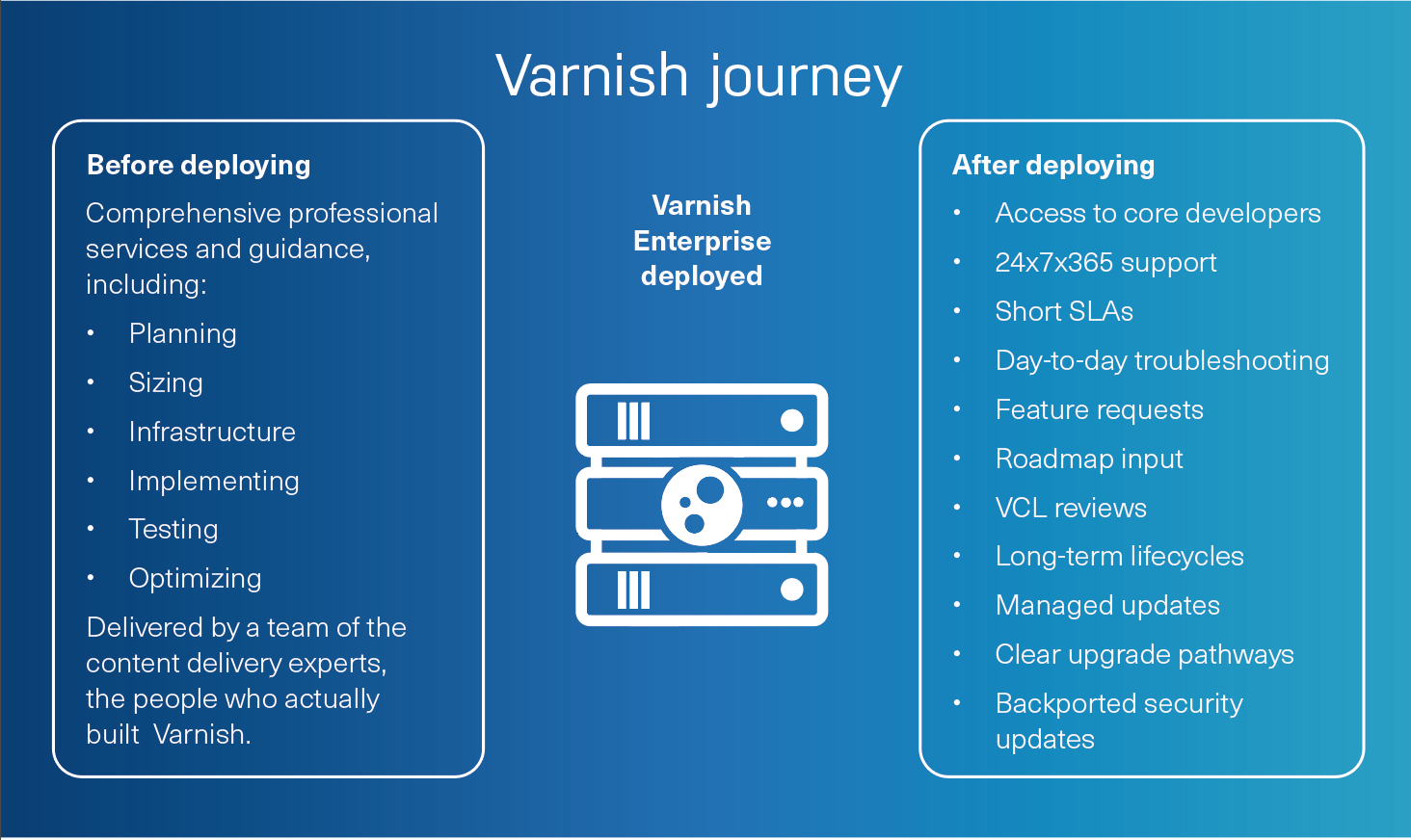 The Varnish Professional Services experience
"Varnish Professional Services is like another kind of insurance policy, making sure that our exact needs were tailored to, our specifications met and tested for and that configuration and implementation would be quick and smooth." - Roberto Lopez, Project Manager, République et Canton de Genève


"If any issues arise [...] the core developers have been immediately responsive and have resolved them quickly. We can count on their expertise to help us optimize." - Thierry Magnien, Service Platforms Manager, SFR


"The support from the Varnish team was there when we needed it, even in the middle of the night." – Steven Dagadu, Head of E-Commerce Development, sheego.de


Do take a read of the previous blog in the series, and look forward to more in the near future! We'll also be putting out a whole guide on the differences between Varnish Enterprise and Varnish Cache too.


For more information on Varnish Enterprise support services, contact us here or book a time with an expert below 👇


Stay tuned for our third installment in this series: Varnish Cache or Enterprise - Performance and Security.