Not so long ago and not so far away, the idea of building your own CDN was a complex, remote and expensive proposition, requiring more technical expertise than most companies delivering digital content wanted to commit when there were perfectly reasonable commercial CDN options available.
Most companies in the digital space (which, let's face it - are pretty much all companies) have begun to see that their content delivery challenges and demands are in a constant state of flux. The more these demands change, the more users are globally/geographically dispersed, the more resource-intensive the kinds of content delivered, the more the commercial CDN resources end up shared with other companies, the less control companies have over how, when, where and to whom they deliver content. Similarly, they sacrifice control over costs and security. But alongside these market changes, technology has also shifted to make the DIY CDN proposition easier to build.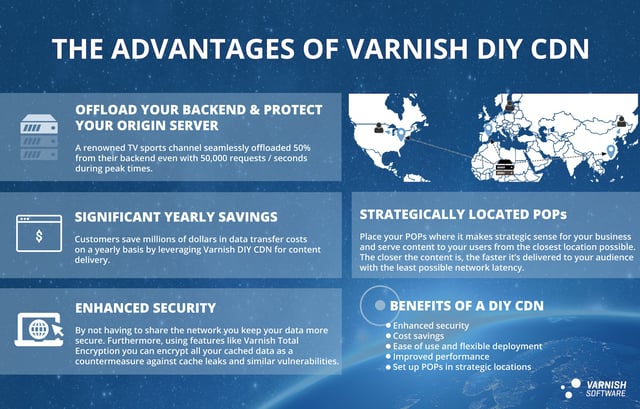 With Varnish DIY CDN, companies can escape the "one-size-fits-all" rigidity of commercial CDNs and implement a content delivery solution that is uniquely tailored to your content delivery needs.
What Varnish DIY CDN does
Using a combination of high-performance caching nodes with geo-DNS traffic management, Varnish DIY CDN lets you build and operate your own content delivery solution.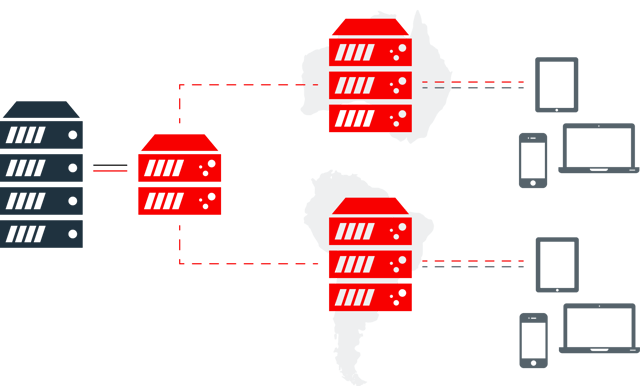 Origin servers Varnish cache servers Clients
Why you need it
Closely related to the streaming solutions companies are seeking today, many companies that distribute content to different geographies and already rely on CDNs (usually a commercial option over which they have no direct control) are looking for innovative ways to take back control over their content and how it is delivered while also looking to control costs. Many major companies have already used Varnish DIY CDN to bring their own content delivery solutions to life, including Tesla, Eurosport and SFR.
Varnish DIY CDN is a straightforward, flexible solution for doing exactly this with the cloud and standard components. A high-performance, global CDN customized to your specific needs can be up and running in as little as one afternoon.
Our new website should answer your questions and give insight as to how you can easily get started with your own DIY CDN.
Photo by Ricardo Gomez Angel on Unsplash