The verdict is in: Americans are spending increasing amounts of time each day consuming different forms of media - a growing amount of it streaming video. Eleven hours a day, according to Nielsen - yes, you read that right: 11 hours. US adults are consuming media every day in one form or another for about two-thirds of the average adult's waking hours, for those counting. Similar content consumption patterns hold true for audiences/users everywhere.
Streaming media overload
Americans are ingesting almost six hours of video per day across different platforms. The majority of this is live and time-shifted TV, but there are significant gains in TV-connected/internet-connected devices as well as video on computers and mobile devices. This is particularly true among the youngest group of consumers (aged 18-34).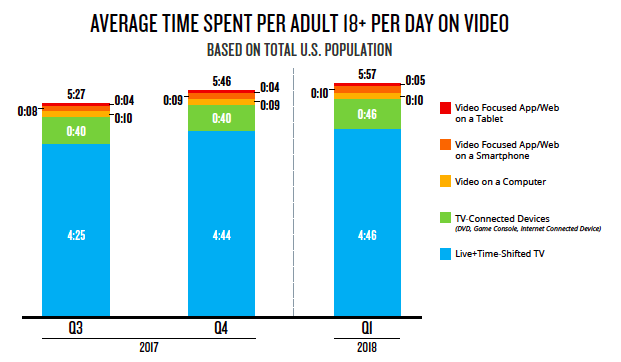 From THE NIELSEN TOTAL AUDIENCE REPORT Q1 2018, Copyright © 2018 The Nielsen Company (US), LLC. All Rights Reserved.
It's really no wonder, though. As Nielsen's Journal of Measurement stated in 2017 (vol 1, issue 3):
"While traditional linear TV offers an increasing array of new channels and new features (e.g., cloud-based DVR), OTT providers are making their mark with curated and skinny bundles for live programming choices. Exclusive content from OTT and subscription video-on-demand (SVOD) providers is exploding. Consumers can truly choose to watch anytime, anywhere and on any device."
The convergence of content and device delivers unprecedented freedom and choice to consumers - but creates new challenges for technology providers who ensure that content is delivered seamlessly regardless of media type, delivery platform/channel or device used to access content.
What does media smörgåsbord mean for content delivery and the tech powering it?
With media consumption, particularly video, becoming this prevalent… what are the implications for media and content delivery?
Try some of these predictions on for size. According to Cisco's Visual Networking Index forecasts, some big numbers and demands will determine the not-too-distant future (that is, by 2021) of content delivery:
Global IP video traffic will make up 82% of all consumer internet traffic.
Live internet video will make up 13% of internet video traffic.
Consumer video-on-demand (VoD) traffic will double and will equal 7.2 billion DVDs per month.
71% of all internet traffic will cross CDNs.
If these predictions are true, how will content delivery change? How will capacity be managed? Among other things, finding the right infrastructure to enable seamless streaming across devices to unpredictable audiences is going to be a top priority. Are you ready to scale? How is your availability/resilience?
We invite you to meet with us at IBC in Amsterdam on 14 September to discuss the answers to these kinds of questions and to help you figure out what you need to future-proof your streaming and content delivery solution.