We're pleased to announce the latest release of Varnish Controller - our administration console for managing Varnish clusters.
Varnish Controller 3.0 makes more Varnish tools and processes available from the intuitive user interface, for faster and easier Varnish deployments and much more visibility into the health of your setup and the traffic you're getting. See documentation for 3.0 here.
Let's take a look at what's new!

New User Interface
We've overhauled the user interface for Varnish Controller to make the experience of managing Varnish instances and pushing out VCL changes as smooth as possible. The UI is the killer feature of Controller, opening up new possibilities for managing and monitoring Varnish. As you'll read below, we have also added new integrations for metrics and logging, and these can be displayed for fine-grained understanding of what's going on across the whole of your caching operation.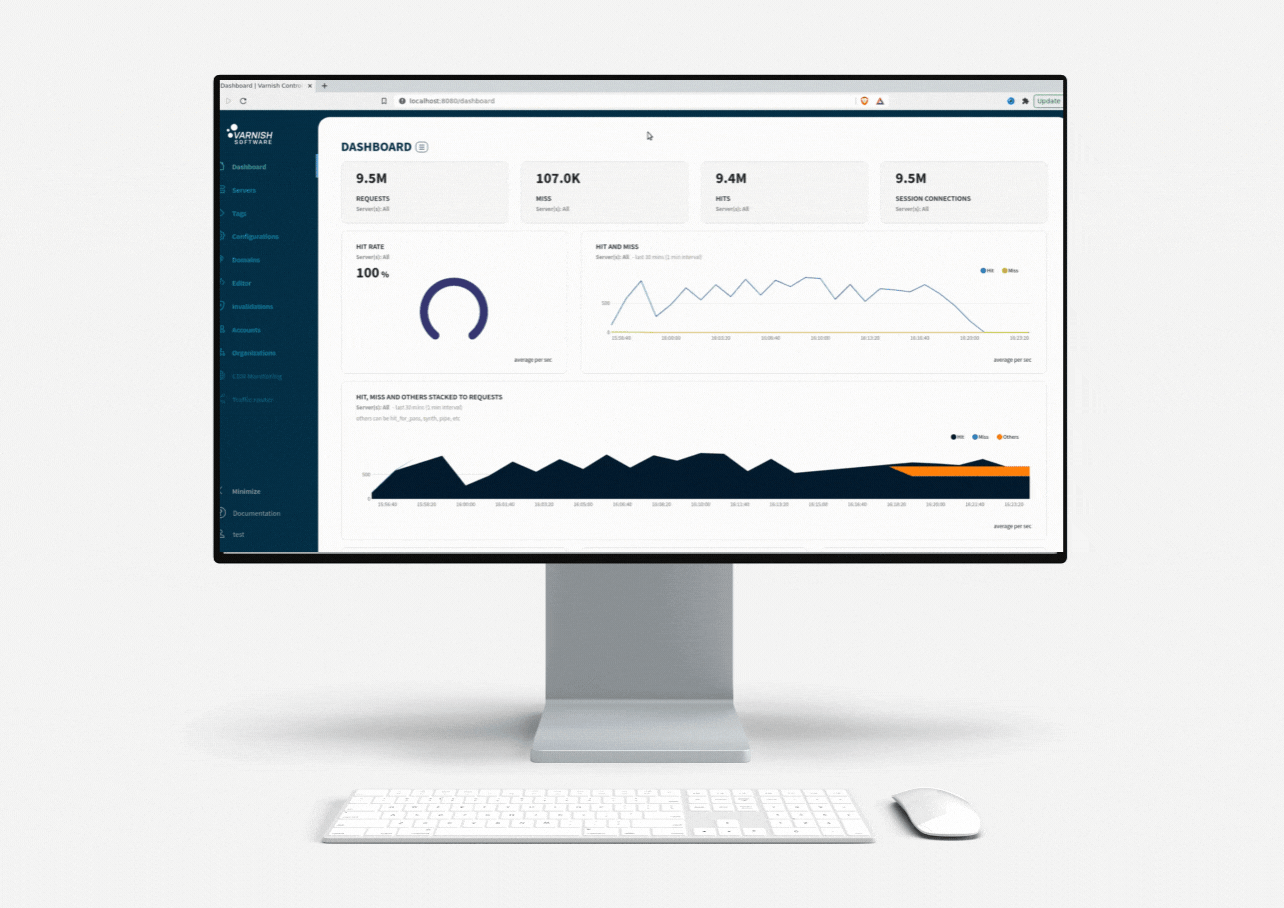 Cache invalidation
Varnish Controller 3.0 supports various Varnish cache invalidation techniques: purging and banning. Cache invalidation is crucial when content is updated at the origin and you need to replace the cached content to bring it up to date. Online newspapers, for example, depend on caching to cope with traffic spikes, but when there's breaking news it should appear immediately, replacing previously cached content. The same applies to live video content delivery. Manifest files contain references to video files, and may change depending on what the camera records. In these situations, it's important to purge content from the cache. Purging is the basic cache invalidation mechanism in Varnish, and simply removes the purged object to free up space. Controller also now supports banning, which allows expression-based cache invalidation. This means that you can invalidate multiple objects from the cache without the need for individual purge calls.
Custom statistics from accounting VMOD
Varnish Controller will now automatically activate accounting VMOD if the Varnish server is running Varnish Enterprise 6.0.8r2 or above. Accounting VMOD generates custom summary statistics, in particular for gathering tenant-specific metrics in multi-tenant setups. It's a really powerful tool, and as well as providing metrics per tenant, it supports key-based metrics. You can design your own key scheme, tagging traffic in and out of Varnish, and read statistics for each key. For example, you can have separate keys for HTML, CSS, images and video, and, at the same time, have one key for each users' preferred language. Also, video services splitting their workloads across live, VoD and live channel statistics can examine data from each tenant separately. So you can split your traffic into multiple slices in multiple ways, get metrics on each slice, and Varnish Controller can display all of this visually.
Persistent statistics
Varnish Controller now offers persisted aggregated statistics. These are reported as an average over a given aggregation period, such as minutes, hours, days and months. This is useful for gaining a historical overview of the functioning of your caching setup, to understand trends in activity.
These are some key new features, but Varnish Controller also contains improvements and updates to existing features. Asynchronous deployments, for example, can now run in parallel. Be sure to check the full documentation to get up to speed.
Of course, with an easy-to-use interface, you're going to want to try it out! We have a fully configured demo environment waiting for you to take Controller for a spin, check it out.