Savvy consumers know that shopping for bargains is a year-round endeavor. And e-commerce companies who have orchestrated major shopping events throughout the year, rather than relying on the be-all, end-all nature of the traditional Black Friday shopping period in the US, are finding ways to lure in revenue at typically lean times of year. What began as primarily American with the post-Thanksgiving holiday chaos of Black Friday has crept into not only a longer shopping period, extending across the entire weekend after Thanksgiving (and sometimes earlier), but has ballooned globally, with retailers worldwide latching onto the Black Friday sales theme to promote pre-holiday shopping.
These big e-commerce spending campaigns, shifting as they have into major events themselves, have become a global trend, with big occasions peppered throughout the year. The two primary examples are Amazon Prime Day (every July; in 2020 on July 13th) and Singles Day (in China, every November 11th). Each of these days has expanded beyond its original scope. Amazon Prime Day not only 'primes' shoppers for big discounts on the Amazon platform itself; it has prompted all kinds of other retailers to follow suit with competing deals, capitalizing on the "shopping mood" Amazon has created.
Singles Day, once exclusively a Chinese 'holiday' of sorts, characterized by simple shopping, has become a must-participate event and retailers compete to get the best celebrity spokespeople to live-stream entertainment and advertising. Retailers both inside and outside of China vie to get involved in selling to the vast Chinese market, but the last couple of years have started to spark Singles Day shopping events outside China as well.


Revenue solutions come with new technical challenges
For retailers, initiating longer shopping periods and keeping revenue flowing even during the low tide of the June to August period is great news. But solutions in one business area often pose new, usually technical, challenges. Companies providing digital shopping experiences are used to the ups and downs of ensuring performance and throughput when their websites are flooded by customers, and have been conditioned by experience to prepare their sites for the standard November-December traffic rush. Now, the rush is beginning to shift from limited and episodic to a more constant flow at other times of year. Most companies know that they need to protect their web performance all year round, so none of this will be a surprise. Yet every year, technology glitches, misconfigurations and lack of availability manage to thwart smooth e-commerce operations.
Some recent highlights include:
Amazon Prime Day website glitches - two years in a row. In 2019, the site wasn't allowing consumers to add items to their shopping carts. And worse, in 2018, the site suffered a complete outage, which prompted many other retailers to use social media to target frustrated buyers with sales offers on their own sites, e.g. eBay launched a "Crash Sale". The outage lasted for just over an hour and is estimated to have cost Amazon 100 million USD.
Black Friday

and Cyber Monday

(the so-called Cyber 5) - every year without fail retailers face downtime or overloads. In 2019, retail giants Costco, H&M and Nordstrom Rack experienced problems, while Lululemon and JCrew experienced issues for the second year running. Department store Saks Fifth Avenue faced Cyber Monday problems that prompted the retailer to extend its Cyber Monday sale into Tuesday. It's worth noting, though, that it's not just retailers who need to think about this. UK bank NatWest suffered technical difficulties, leading to their customers not receiving deposits and thus not having money for the shopping holiday. The bank's inability to process online and mobile payments made it impossible for their customers to take advantage of online deals. And as a cautionary tale, social media sites like Instagram were also struggling, and if a company was relying on social media influence marketing or marketing campaigns via these channels, they spent a lot of money with little to no return.


The good revenue news
Despite a few technical hiccups, most sites coped well with traffic, and revenue grew year-on-year during Thanksgiving Day, Black Friday and Cyber Monday, breaking previous records. Consumers used mobile devices to finalize purchases rather than just browse, as has been predicted for years. Overall holiday spend is likely to reach 143 billion USD for the period between November 1 and the end of the year. In 2019 the shopping period was lengthier, as retailers tried to get bargains in front of buyers earlier to compensate for Thanksgiving falling later in November than normal. But no matter how rosy the numbers, it's valuable to take a look at the 'failures' of Black Friday and Cyber Monday as well as how this revenue is spread out over a near two-month period, while comparative upstarts, like Singles Day, have generated more than 38 billion USD in sales in just one day.


Lessons from the Singles Day experience
Notably, Singles Day has not been included in the list of performance challenges. Whether that's because problems are not widely reported or because Chinese retailers, led by Alibaba, are ready for action when Singles Day rolls around, there are lessons to learn. Consulting firm Accenture tells it like it is: "Singles Day is disrupting the worldwide retail market and redefining all the existing standards of the industry. As the Alibaba-initiated phenomenon keeps on raising the bar, let's find out how the Chinese powerhouse has turned the tide of shopping behaviors in just ten years' time".
In 2019, Singles Day's tenth anniversary, retailers achieved record sales numbers (38.4 billion USD). For comparison take a look at the chart from Accenture.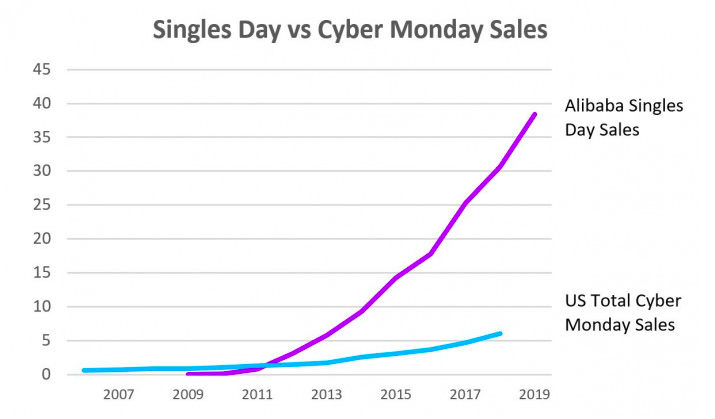 Global retailers getting in on the Singles Day shopping festival face barriers because the way they do business isn't what the Chinese market seeks. Leading up to and during Singles Day, Chinese retailers have introduced measures to go above and beyond "normal" customer service, optimizing the entire shopping experience. Marketing, customer communication, and the checkout and payment process have been examined and tested to maximally serve customers with quicker transaction flows and optimal traffic management.
As has been predicted in the retail space for a number of years, the "experience era" is upon us and that includes rethinking the end-to-end customer journey and the performance required to deliver that experience consistently. Retailers leading the way during Singles Day have drawn a blueprint for how this should and could be done.


Get the e-commerce performance fundamentals right
A lot of factors go into delivering the ideal retail experience, but the underlying foundation has to work to enable everything else. On Singles Day in 2018, Alibaba alone processed an average of 250,000 transactions per second (and double in 2019) without an outage (nor any reported outage in the history of Singles Day). Handling peak traffic and transaction volumes is the essential starting point upon which extraordinary and increasingly personalized e-commerce experience can be built.
Give yourself and your business an early Christmas gift: Get a head start on next year's retail challenges and get ready for a pain-free holiday season in 2020 - and pain-free peak traffic periods all year round.