Calling 2022 a "big year" for Varnish Software would be an understatement.
Over the last 12 months, we've experienced new levels of growth, achieved our greatest customer satisfaction scores to date, and unveiled pivotal new technologies and initiatives that strengthen our position as a leader in caching, streaming and content delivery solutions worldwide.
As we wind up this momentous year, we wanted to share a few big end-of-year highlights and brief teasers of what's to come.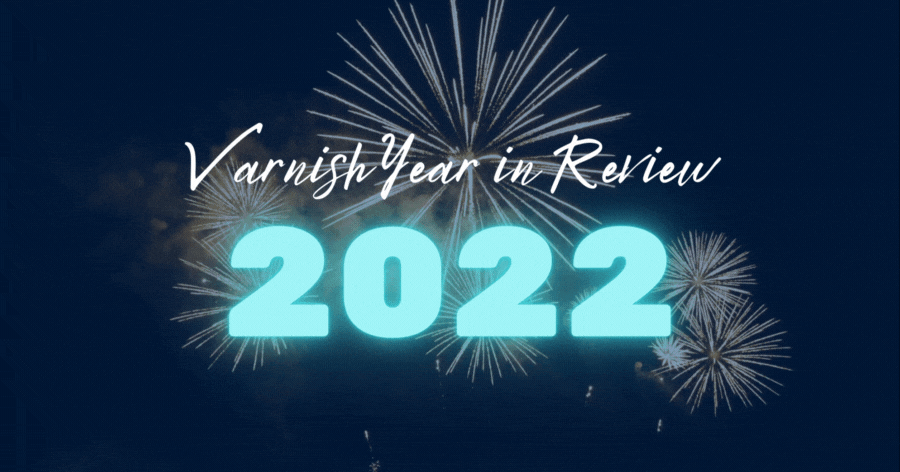 Creating the most powerful Varnish private CDN

Among our efforts to constantly improve our technology stack, Varnish recently unveiled significant enhancements to the newly updated Varnish Traffic Router, providing advanced tools for load balancing and traffic routing to ensure content is always delivered from the optimal location for the best user experience possible.
Varnish Enterprise 6 with the new Traffic Router is Varnish's most powerful, feature-rich web cache and HTTP accelerator to date, and addresses today's most pertinent challenges related to video streaming, content delivery networks (CDNs) and website acceleration at scale.
This recent product enhancement, which was awarded Best of Show at IBC 2022, adds to Varnish Software's growing portfolio of new solutions, including Controller 5.0, and we have many new improvements in store for 2023.
Expanded partnerships and greater performance for next-gen delivery

Last year, Varnish partnered with Intel Network Builders to enable content delivery at over 500Gbps – without using expensive and power-hungry accelerators. This year, we doubled down on our tech partnerships and joint initiatives, setting even greater industry standards for performance. For this vital work, Varnish Software was named a Titanium Partner by the Intel® Network Builders – the highest honor in their Winners' Circle Awards program.
In 2022, Varnish also partnered with Intel and STL Partners to host its first Next-Gen Content Delivery LIVE! World Tour. The tour launched in Amsterdam at IBC and featured seven stops worldwide. During the tour, we conducted discussions and demonstrations with hundreds of content providers and CSPs to help them achieve their growth potential by supporting new emerging use cases in the fast-growing streaming market as part of the $50B CDN global economy.
Varnish's growing global footprint
It's not just our customer base that's growing. To support surging demand for next-gen content delivery solutions, Varnish Software is scaling rapidly too. In 2022, we expanded our team by more than 37%, adding new employees and offices around the world. This includes new offices in strategic locations such as Dusseldorf, Los Angeles and New York City, which will allow us to better serve our customers while supporting continued growth internally.
New frontiers in greener content delivery
Varnish has upped its commitment to help CSPs deliver lower emissions while meeting performance requirements in content delivery and web acceleration, and we're continuing our work with academia to measure the power consumption and CO2 emissions of HTTP servers on which Varnish Software is deployed.
As a founding member of Greening of Streaming (GoS), we recently held our second annual summit – our biggest event yet – bringing together members of technology, media and government to share the latest initiatives, best practices and new findings from GoS members.
Varnish is also continuing its work with the EBU's 5G-EMERGE project to launch our content delivery solutions into space. The first phase of this project will combine satellite and land-based 5G to cache content at the edge and deliver next-gen connectivity wherever it is needed across our planet. Eventually, we see moving caching compute and content delivery infrastructure into space as a promising method to greatly reduce carbon emissions.
Customer and performance accolades
G2, the world's largest and most trusted tech marketplace for business software, named Varnish #1 in Web Server Acceleration two times in a row - in its Fall and Winter rankings, which are based on real user reviews and market intelligence. G2 also ranked Varnish as 'Momentum Leader' for Web Server Acceleration and Enterprise Content Delivery, as well as a 'High Performer' for Load Balancing. These ranking reflect exceptional customer satisfaction for Varnish's robust features and capabilities, ease of use, unmatched customer support and more.
Speaking of customer satisfaction, we have been sending customers CSAT surveys every time we close a support ticket. In 2022, we've exceeded all expectations by achieving a 100% Customer Satisfaction score! It's clear Varnish Software customers are not only satisfied with our solutions, but they are also eager to share their excitement.
2023 Will Be an Even BIGGER Year for Varnish
2023 will feature more performance benchmarks, new solutions and ground-breaking initiatives from Varnish to help our customers, garner innovation in the Varnish Cache community and advance the future of next-gen content delivery. Are you ready for another great year?
Happy Holidays!